​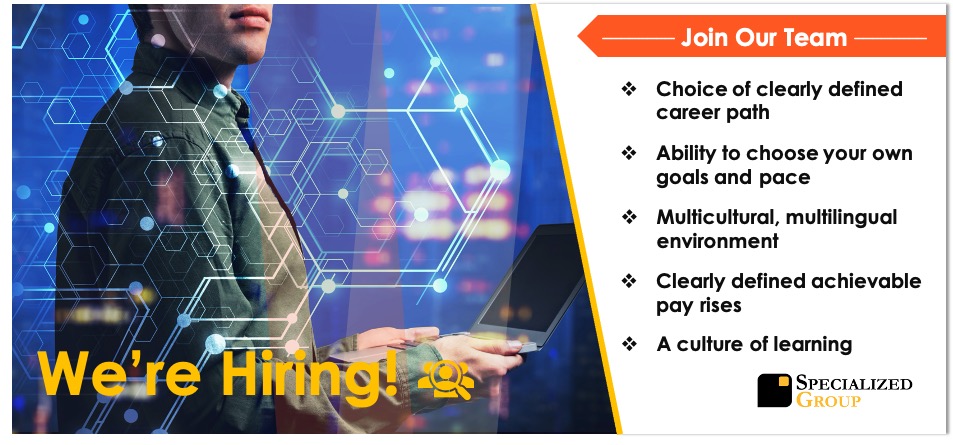 ​
Work With Us
Specialized Group's vision is to be the Recruiter of Choice for Consultants. Clients and Candidates in our chosen markets.
​
Our strategy is to have highly trained, and motivated consultants who will develop relationships with our clients and deliver the best results.
We do this within the framework of our values. Understanding People; Working Together; Delivering Results and Sharing Success.
​
Our strategy to achieve our vision means that it is in our interests to have the best trained and most highly motivated people on our team; our values ensure that we work as a team.
​
We are always interested in talking to successful people about joining our team. Our consultants come from a range of different fields and backgrounds.
​
​
A Rewarding Career
As a recruiter, you can specialize in placing people in almost any industry and with any skill set. The most important detail is that you seek to understand the market, the candidates, the careers and why people love doing what they do.
​
People succeed at recruitment for very different reasons: you may be highly organized; you may be very good with people; you may have a great knowledge of an industry or a good network. Nearly everyone that succeeds, loves the job. You may love learning, people, the success that making placements bring or the art of negotiating a deal.
​
​
Our Journey
Specialized Group's consultant journey clearly outlines the targets and skills that each person needs to achieve, to climb our career ladder from Associate Consultant to Director. Our commission scheme is transparent, merit-based, approaches everyone equally and is driven by you.
​
From day one, you will benefit from our training covering our vision, values, your career path, our services, consulting concepts & skills, candidates, interviewing, business development, clients, negotiation, contracts, and compliance. After training, we will work with you on improving your market knowledge and skills. This will ensure that you can successfully win and conduct contingent and retained searches on behalf of our clients.
​
It is then up to you to select your path to sales specialization or management. The choice is yours. We can coach you on your skills and help you on your career path but it is up to you to provide the energy and put the work in to get there.
​
​
Join Specialized Group
A track record of success is essential. Your past experience will determine where you start on our consultant journey.
​
We require our consultants to have excellent communication skills. You will need native level English or Japanese language abilities.
​
If you believe that you will enjoy a career in recruitment, please send us a copy of your CV with a cover letter, contact us today.
​